It was an odd month for sports betting in the Mountain State.
West Virginia sportsbooks saw nearly $45 million in handle in October. While this isn't a terrible month in terms of production, it's certainly not the state's best.
In September, WV sportsbooks accepted over $63 million in bets. There is typically a slight lull at some point near the middle of the football schedule, but this drop is too drastic for that.
October's sports betting figures were actually lower than they were two months ago, as well. Sportsbooks' handle exceeded $47 million in August.
Although it was a slower month, the state's overall betting handle reached at least $10 million each week.
Sportsbooks had their best showing for the week of Oct. 10. They took in almost $11.7 million in handle.
Part of the surprise from the reduced betting figures this month is where it stems from. Shockingly, online sports betting within the state is down, whereas retail wagering remained unchanged.
This is confusing for several reasons. Not only is online betting increasing just about everywhere in the US, but also WV just expanded its mobile offerings.
The state now has five platforms to utilize. They consist of the following:
In total, these online betting apps accepted around $27 million in bets for the month. This is about 60% of the overall handle in WV.
Even though this is a sizable chunk of the total, it's nowhere near the 80% mark online handle has previously hovered around. Online bets accounted for over 80% of the state's handle in August, and about 76% in September.
Let's examine October's sports betting report and break down both the handle and revenue figures more closely. Before we do, here's a fascinating look at the growth of online sports betting in the US since the fall of PASPA in 2018.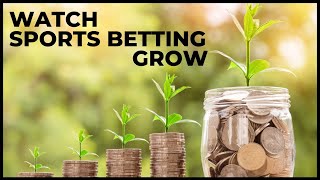 WV October sports betting handle
It is tough to say exactly what's caused this drop in sports betting for the month of October. With the NFL and college football betting still in full swing, it's very odd to see the online figures take such a drop.
Online sportsbooks had their best production in the first week of the month. They took in more than $7 million in wagers for the week ending Oct. 10.
The following three weeks didn't see the handle exceed $6.7 million.
On the other hand, retail betting hasn't had any of the same results. In fact, betting figures at retail sportsbooks have increased over the last few weeks and months.
The land-based books totaled around $18 million in handle for October, while their handle was right around $15 million in September.
Retail betting didn't even hit $10 million in August.
This trend doesn't seem to be changing anytime soon, either. Retail had its best performance for the week of Oct. 31, with nearly $4.6 million in handle.
Hollywood Casino led all others in sports betting handle, in part because its retail sportsbook is the most popular.
As a whole, Hollywood tallied just shy of $25 million in handle.
A little over $11 million was accepted online through DraftKings, while its retail book saw more than $13 million in bets.
The Greenbrier placed second with about $15 million. Since its retail sportsbook is still exclusive to members and guests, its online platforms brought in the majority of bets.
The combination of FanDuel and BetMGM took in over $14 million in wagers, or about 96% of The Greenbrier's overall handle.
Mountaineer Casino finished third for the month with almost $4 million. It just recently launched its first online option with the William Hill Sportsbook.
The online app collected just over $680,000 in handle in basically its second month available on the WV market.
Mardi Gras Casino was next with just about $30,000 shy of $1 million. It also just released a new online sportsbook with its Betly app.
Betly saw close to $200,000 in bets during the course of October.
Wheeling Island, which shares the same Betly Sportsbook, finished last. Its overall betting handle just eclipsed $500,000 for the month.
Wheeling's app accounted for around $50,000 of the total.
Claim Your $1,200 Bonus at DraftKings Sportsbook

Up to $1,200 BONUS
New User Bonus. T&Cs Apply.
DraftKings Promo: Bet $5 Win $150
PLUS $50 Bonus Bet On Deposit

PLUS Up to $1,000 Deposit Bonus

Gambling Problem? Call 1-800-GAMBLER 

To Claim: Click Play Now
WV October sports betting revenue
Despite not having the best month in regard to betting handle, WV sportsbooks earned plenty of revenue. They made more than $3.7 million in profits in October.
Of course, WV sports betting revenue is much more volatile and a lot harder to predict. That being said, October was a great month for books.
They earned about $80,000 more than they did in September, even though sportsbooks had $18 million less in handle.
This was the best month for revenue in quite some time.
Sportsbooks made over $1 million on two separate weeks, and totaled more than $935,000 in another week. Their best showing came on the week of Oct. 10, when revenue topped $1.4 million.
Sportsbooks had such a positive month even with a slow final week. The $250,000 in revenue was their lowest total in 17 weeks.
The Mountain State's online sports betting apps brought in more than $2.2 million in earnings. This was roughly 60% of the overall revenue, coincidentally the exact percentage amount for online handle.
The online sportsbooks earned over $300,000 every week, with their best week netting around $950,000.
Part of the reason revenue was so low in the last week of October was the fact that retail establishments actually lost money. They paid out almost $75,000 for the week.
The monthly revenue rankings look very similar to the handle results.
Hollywood Casino led the way with just about $1.7 million. Its DraftKings Sportsbook earned over $780,000 of that or 46%.
The Greenbrier came in second again, with just over $1.4 million in revenue. Its online sportsbooks were responsible for about 96% of the total.
Mountaineer finished third by making nearly $400,000 in October. Its new online sportsbook, William Hill, contributed around $75,000.
Wheeling Island jumped its sister property for revenue after falling short in betting handle.
It earned about $135,000 for the month, while Mardi Gras was closer to $105,000.
The Betly Sportsbook totaled around $18,000 for Wheeling Island and $5,000 for Mardi Gras.
New Players get up to $1,000 bonus at FanDuel Sportsbook
Up to $1,000 No Sweat First Bet
Available on Desktop, Android & iOS

To Claim: Click Play Now

On the board at WV Sportsbooks
While October wasn't the best month in recent history, the WV sports betting market is doing well in general.
When comparing this latest month's betting figures to those of October 2019, there is clear growth.
This year WV sportsbooks' handle hit almost $45 million, up about $15 million from 12 months ago. Year over year, betting increased by 47%.
There's no reason why sports wagering figures won't continue to rise in the upcoming months. Football season is always one of the most popular on the sports calendar, and games start to get much more serious come November.
Although WVU Football doesn't have a shot at making the playoff this year, they are certainly making strides.
Right now, bettors in WV can take an updated future for which team they think is going to win this season's championship. According to DraftKings, the following are the favorites to win the title:
Alabama +125
Ohio State +250
Clemson +350
Florida +1100
Notre Dame +2000
Texas A&M +6600
BYU +8000
Cincinnati +8000
Indiana +8000
Wisconsin +8000