Precise is nice.
West Virginia horse racing betting fans: Pinpoint accuracy may be the key to making a profit on Saturday's Kentucky Derby.
When second-favored Art Collector was withdrawn from the race because of a minor foot injury on Tuesday, it left Tiz the Law as a nearly unplayable 3-5 favorite. That, if it holds, would make him the shortest-priced post-time favorite since Spectacular Bid in 1979. This is even more significant because there are 18 horses in the field, compared to 10 when Spectacular Bid ran.
Here is the field and the odds as of Tuesday's draw.
The win line has all but disappeared for most bettors. Who wants 3-5? That means a $100 bet would return only a $60 profit and the horse has to defeat 17 competitors. Big-bet gamblers will watch this board closely and may make a large bet if Tiz the Law inches up to 4-5 or higher.
But for most of us, it's time to consider other options.
For your information, WV sportsbooks don't accept horse racing bets. However, West Virginia sports betting customers can wager on the TVG horse betting app.
Kentucky Derby betting tips and strategies
Throw some longshots in the exacta, trifecta or superfecta ticket. This is not an exceptional group of 3-year-old horses. The next wave behind Tiz the Law includes Honor A.P., Authentic and Thousand Words.
They have taken turns beating each other throughout the summer, which means that even among the second-best group, there is inconsistency. NY Traffic, who finished a strong second to Authentic in the Haskell Stakes at Monmouth Park in July, is also a legitimate pick to finish among the top four, and his early odds were 20-1.
The horse in this group that had the best form collectively was Authentic. He is 8-1, and Honor A.P. is 5-1 because Honor A.P. beat him in the Santa Anita Derby. But Authentic reared his head at the start of that race and drifted out wide, losing at least three or four lengths. That was the difference.
Honor A.P. later lost to Thousand Words in only a four-horse field.
Sole Volante, King Guillermo and Max Player were good horses early in the season. They flattened out. But if they recapture a semblance of past form, they could find their way into the top four. And they are big-time longshots.
The post positions are crazy. The outside four horses have the best credentials in the race, but may have the farthest to run. To save ground, they are going to need to break sharply and try to cut inside. There could be traffic problems around the first turn, which could compromise at least one of them and open the door for other horses we have mentioned here.
Get a $100 No Sweat Bet at FanDuel Racing
$100 NO SWEAT BET
Bet on Horse Racing
Up to $100 Back if Your First Bet Doesn't Win
Get Boosted Odds & the Best Promotions

Easy Deposits, Fast Withdrawals
To Claim: Click Play Now

Bets to consider
Some betting ideas in each realm: first, the exactas. This is where you must pick the top two horses in the right order. A $5 exacta box with two horses costs $10. You can also split it, taking Tiz the Law, say, in a $7 straight exacta with the other horse you like running second. It can then be reversed to put the other horse you like first in a $3 straight exacta and Tiz the Law second.
A $2 exacta box with three horses costs $12 and gives the bettor a little insurance. If one of the horses runs bad, the other two can still comprise the exacta.
Finally, you can take one combination, say $20, with Tiz the Law on top of the second-place horse in a straight exacta. That would likely return at least $100 if a medium-to-longer shot was second.
Trifectas: Here you must select the top three horses in exact order. The $1 trifecta box with three horses costs $6. The box bet guarantees that if you have the top three finishing horses, they will be in the right order.
For $4, you can also play a $2 trifecta key with one horse in the first position and two others in the second and third slot. If you combine those two bets, you have given yourself a possible winning $3 trifecta ticket for a $10 outlay.
The $1 superfecta: Only worth it if you believe a long shot will run in the second, third or fourth slot. This wager gets costly and should only accompany the conviction that a long shot will be in the top four.
New horse bettors might appreciate the tips in this episode of Teach Me To Sports Bet The Kentucky Derby.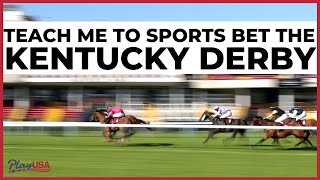 Get your horse bets in
Give yourself a few minutes of breathing room to make the bet. There is a flood of wagering on Derby day. Systems can get delayed and any bet wagered within one to two minutes of post time may not get in. Make one bet, or a series of them, with somewhere between five and 10 minutes remaining. Why get emotionally invested and then get shut out?
You will get a feel for how you are doing after one half of a mile is run. The track announcer should make some comment about the pace. If the first half is run in the neighborhood of 47 seconds, the horses near the front are not being unduly taxed by the pace. If it is under 46 seconds, the pace may be scorching and set up for someone to rally down the stretch.
A few parting Derby betting tips
Honorable mention, part 1: None of the horses in this race have run against a field this large. That can affect the positioning and ultimately the outcome.
Honorable mention, part 2: The forecast calls for no rain, which is good because rain, or "slop" for a sloppy track, creates an entirely different set of variables.